March-A-Thon is an annual fundraiser happens right before Fall semester starts. In every July, the Vandegrift High School Marching Band will set out and march through Steiner Ranch neighborhoods for four hours, providing music and entertainment as well as providing personal curbside mini-concerts for people who donates more than 200 dollars or more. Lots of fun!
Parents, Friends and Families that have donated to VHS before or have a student in the program will receive personalized email invitation to join the fundraiser.
Following pictures are from this year's March-A-Thon, it was on 7/31/2021, Saturday, started at 8:00 AM and ended around noon.
(Route Map, Flyer, Fundraiser Webpage)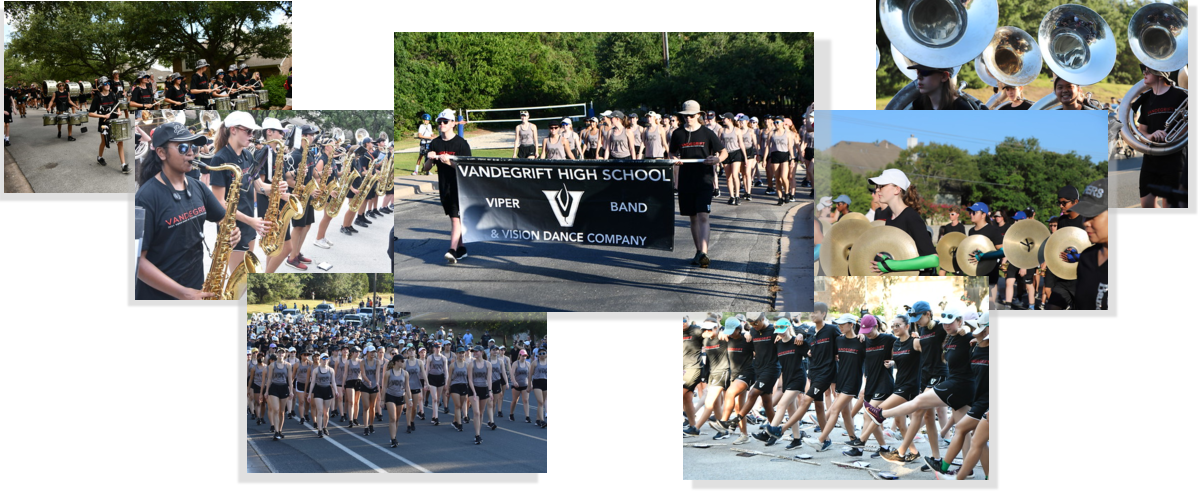 March-A-Thon Personal Mini-Concert
Interested in getting a lawn concert? Contact March-A-Thon Coordinators to schedule the Band for your lawn.
Note that you must be on the pre-established route to get a lawn concert. However, families off-route can schedule a personal mini-concert at John Simpson Park.
All donations benefit the entire VHS band and Vision Dance Company
*** We accept funds towards this fundraiser throughout the school year! ***
QUESTIONS? EMAIL MARCHATHON@VHSBAND.COM
Tax Deductible Donations:
The Vandegrift Band Booster Club helps support the band program by providing funds to offset expenses and keep student fees as low as possible. The Booster Club is a 501(c)(3) organization.